What Is The Best Bicycle Lock?
Do you know how good a bike is?
As good as a lock that keeps it safe.
That's why I recommend choosing the best u-bolt locks for bikes. While their bulky size helps them resist chisels, hammers, and the like, the horseshoe shape of u-bolt locks limits leveraging – hence giving no room to the thief to insert the crowbar and pop the lock apart.
What's more? You even get multiple locking options from these locks.
That's right; while small-sized u-bolt locks fasten either a wheel or the frame around a fixed object, large U-bolt locks lock both – thereby providing maximum security.
Top Five U-bolt Locks For Bikes – Comparison Table
Before You Buy U-Bolt Lock
To make sure that you don't end up making the wrong choice, there are some things which you need to consider before buying a U-bolt lock.
Why Do You Need a Bike Lock?
Tell me: what do you need the lock for? Are you a commuter who uses their bike to ride to and from work every day? In that case, since you have to fasten the bike against a street pole, you should get a lock which is thick, provides extreme security and weighs a ton.
Conversely, if you are a road cyclist, what you need is a lightweight model which could easily slip in your jersey pocket as you make pit-stops along your journey.
Number of locks You Need
As common sense tells us, the greater the number of locks securing your bike, the fewer chances any street criminal would have to steal it. That, however, doesn't mean that you should just go out there and buy a dozen locks.
Instead, if you live in an area where bike crime is soaring through the roof, you might want to invest in two locks: a cable which runs between the frame and the wheels, and a U-lock which secures the frame against the street pole.
Otherwise, if there aren't any petty criminals around, one lock might be enough.
Object(s) You Will Fasten the Lock Around
What's the last thing that comes to anybody's mind when they are choosing a bike lock? The things they will wrap the lock around to secure a bike. Unfortunately, that's the first thing you should consider before buying a U-lock.
Why? Because the size of the securing object – which includes signposts, railings, and street poles – determines the size of the lock. In other words, if you're going to secure your bike against thick signposts, lamp posts or wide railings, you need a bigger size U-lock.
Otherwise, if the securing surface is a thin signpost or a narrow railing, you can make do with a small-size U-lock. Still, remember that the greater the size of the lock, the easier it will be for any criminal to insert a rod and pop the lock apart. So, if you can, always choose a small-sized U-lock.
Best U-Bolt Locks for Bikes – Reviews
=========
At the cost of sounding biased, the ABUS Grant XPlus is one of the best U bolt locks on the market. In addition to having a super design – which goes all the way down to its mount bracket – this lock's Sold Secure Gold rating makes it a must-have.
Features
First things first, the parabolic shape of this model makes it impossible for bottle jacks to burst it. It also has a double bolt mechanism which means that any power tool willing to cut through the cable would need two cuts to defeat this lock.
It is available in two mounts, the TexKF frame mount and a webbing strap and it also boasts a positive locking mechanism. Both the mounts come with rubber tube adapters to allow you to fit them around a wide range of circumferences.
It also offers two lengths, either a 200mm or a 300mm U. Also, while I usually worry that longer locks are easier to cut through for the thief, the shackle of the XPlus – which is made of temper-hardened German steel – means that you can safely select the longer lock if you wish.
One of the two keys which come in the package has a built-in LED so that you can locate the lock when it's dark out. It also has an automatic rain and dirt cover which comes off when you insert the key and goes back into place when you withdraw it.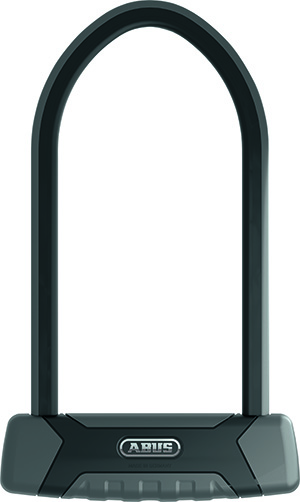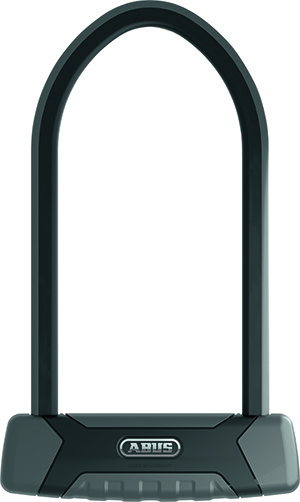 Pros
Large and equally strong
Sold Secure Gold Rating
Package contains two mounts
Dual-locking mechanism
Cons
Final Verdict
In search of a tenacious lock that could withstand years of commutes and dozens of rides? Then you need to immediately put the ABUS Granit X-Plus 540 U-lock on your short list.
Given the fact that Kryptonite's locks have been faithful companions for many cyclists for ages, it's of little surprise that the company's Kryptolok maintains that status.
Features
Once I began my research, I immediately realized that the Kryptolok holds one advantage over its competition: its hardened double-deadbolt design. By engaging both ends of the shackle, this design allows this lock to endure bolt cutters, thereby giving no chance to a large number of bike thieves.
Additionally, increasing the utility of this model is its disc-style cylinder which is both drills- as well as pick-resistant. Equally impressive is the cutout on the end of the shackle which makes it extremely difficult for any thief to rotate the shackle after cutting it off.
Next comes the disc-detainer locking mechanism of this model which makes picking this lock harder than even a high-end wafer lock. You even get a 4' loop cable which acts in tandem with the lock and secures the front wheel, frame, and accessories.
To make the Kryptolok easy to carry, two features come into play. The first of those are the anti-rattle bumpers which keep the noise at a minimum during transport. Secondly, we have the U-transportation system which allows multiple carrying positions.s
Pros
Has a 13mm hardened steel shackle
Disc-detainer locking mechanism
4 foot cable helps secure the front wheel
U-transportation system allows for multiple carrying positions
Cons
Some customers have experienced problems with turning the key
Final Verdict
Provided you don't live in an area where bike theft is widespread, the Kryptonite Kryptolok will keep your bike secure. Also, since it allows for multiple carrying positions – and keeps silent while you're riding – this lock will surely exceed your expectations.
Not overly concerned about the brand name? Provided your answer to this question is in the affirmative, you'll see for yourself that the Cocoweb ArmBar has everything that it might take to secure your bike.
Features
Compare it with the Kryptonite Kryptolok, and you'll see that the ArmBar is better in at least one area: the thickness of its cable. Where the Kryptonite's cable stops short at 0.375'', the Cocoweb cable almost touches 0.5''. That extra thickness means this lock would withstand external attacks better.
Also, since it provides a 5-foot braided steel cable in the package, you could lock both the saddle as well as the second wheel without removing them. It also has a sliding dust cover over the keyhole which protects it from worst weather conditions and won't let the locking mechanism stiffen up.
Moving on, the 3.2lb weight of this model comes forward as a double-edged sword. On one end, by allowing the manufacturer to add extra steel to the lock, the added weight increases the security level provided by the lock. On the other, the added pounds make it difficult to carry it in your backpack.
Fortunately, you get a robust plastic frame with this model. In addition to fitting a large variety of frame sizes, its PVC coating means that the frame won't damage the bike's paintwork. It is easy to install too and will hold the lock snugly as you ride.
Pros
Has a dual-locking mechanism
Easy to install robust plastic frame
5 foot braided steel cable is included
sliding dust cover over the keyhole
Cons
Does not have a theft insurance program
Final Verdict
To be honest, I was surprised by the reports of the performance of the Cocoweb ArmBar. I didn't expect it to be as easy to use and the way its performance rivaled several high-end models also fascinated me. Therefore, if you're looking for a versatile lock, go for it.
Hoping to get security at a competitive price? The OnGuard Bulldog provides just that. It also provides five keys in the package to make itself a must-have for those of you who are prone to losing keys every now and then.
Features
Just like the Kryptonite Kryptolok Series 2, the OnGuard Bulldog comes with a 13mm hardened steel shackle which resists cutting, jacking, prying and everything else apart from the biggest bolt cutters. And its re-designed cylinder is resistant to picking, drilling and pulling.
You also get a double-locking mechanism which locks the Bulldog's shackle on both sides. That means that if a thief wants to remove the lock, they'd have to cut through its shackle twice. Which isn't easy given the fact that this model has been given a Silver rating from Sold Secure.
Aside from the lock, you get a 1.2mm hoop-ended cable in the package. The length of the cable allows it to easily loop through the back and front wheel through the shackle, while also keeping the head-end secure.
Lastly, the OnGuard comes with its very own mounting bracket which carries on the side of your frame and fits easily on road bikes. Also, since it weighs a mere 5 lbs, the Bulldog is incredibly easy to carry around in your backpack. And of the 5 keys that come with it, 1 has a light to help locate the keyhole when it's dark out.
Pros
Incredibly lightweight
Sold Secure Silver Rating
Dual-locking mechanism
Optional anti-theft protection
Cons
Final Verdict
As stated at the start of its review, the OnGuard (8009) Bulldog provides security at a competitive price. If you need a middle-security lock, you cannot go wrong with it.
Despite coming at a fraction of the weight of its much bigger counterparts, the Kryptonite Evolution Lite Mini-6 is as strong and provides a matching level of protection.
Features
Starting with the best this model has to offer, it hasn't compromised on its strength despite being on the lighter side. The model has an 11mm hardened steel shackle which has reduced the diameter of the shackle but not at the cost of high-performance standards.
Furthermore, since the ends of the shackle feature a scalloped shape, it is impossible for a thief to cut one side and rotate the shackle to create an opening. A deeper shackle penetration provides extra protection against prying attacks and double jointed connections mean it's easier to fit it around your bike.
With a reach of around 6″, the Lite Mini-6 will secure your bike against a street lock or a post – though it might have trouble reaching around the frame or the wheel of your bike. Its small size and simple design, meanwhile, makes the lock maneuverable in ultra-tight spaces.
Even in freezing cold weather, you won't have any problem locking the Lite Mini-6 with numb-hands or gloves. That is, because, it has a rotating key protector which slips out of place when you insert the key. It also has a keyhole protector which helps keep out moisture to prevent the formation of rust.
Pros
Extra protection against prying attacks
Incredibly lightweight
Rotating key protector
Cons
May not be wide enough for bigger bikes
Final Verdict
Thanks to its minimalistic appearance, smart design, and compact offering, the Kryptonite Evolution Lite Mini-6 is a cinch to carry around. Its strength is equally impressive and the fact that it is incredibly lightweight gives you no excuse to leave this lock at home as you go riding.
How to Choose the Best U-Bolt Locks
In case you're wondering, the following aspects are what I took into account while choosing the best u bolt locks for this article.
Size of the lock
In contrast to what most people tend to believe, size doesn't mean the thickness of the lock's metal. Instead, it means the space (or leverage) that exists within the U-lock itself.
Small-Sized Locks
If you ask me, I always prefer small-sized U bolt locks. Not only are small-sized locks relatively lightweight, but they are also a cinch to carry and occupy less space in your backpack.
Therefore, as long as the metal has a decent thickness, you should always prefer a small-sized U-lock too.
Why am I saying that? Because the smaller the size of a U-lock, the less room there is for the thief to insert the crowbar and pop the lock apart. Otherwise, if the space within the U-lock is considerable, bike thieves could insert a rod into that space and break the lock off.
Large-Sized Locks
As you might have guessed by now, my vote is in favor of small-sized locks. Yet, even I can understand why some people tend to use large-sized locks. These locks give you the freedom to wrap your bike against virtually anything.
Having this freedom – of wrapping your bike against anything – is a good thing to have particularly if you are a road biker who doesn't know where her next destination will take her.
Just make sure that the lock is fastened tightly around the frame and that there is no leverage for the thieves to exploit.
Thickness of the Lock
Common sense tells us that the thicker the metal of the shackle – which is the U-shaped part of the lock – the stronger the lock will be. And in terms of thickness, locks fall into three categories: less than 13mm, between 13 and 15mm, and over 16mm.
Less than 13mm
Of the three, the 13mm locks are the most susceptible to the attacks of medium sized bolt cutters which some bike thieves use. However, since they give zero leverage, any thief with anything but a bolt cutter won't be able to pop them apart.
Between 13 and 15mm
More secure locks, whose diameter ranges between 13 and 15mm, generally withstand anything apart from the biggest bolt cutters. Go for them if your area doesn't have an abnormal amount of bike stealing rate.
Between 16 and 18mm
Yet, if you want to take no chances, go for locks having a diameter between 16 and 18mm. Their thickness makes them so impregnable that even the biggest bolt cutters could only dream of cropping these baddies.
Material of the Shackle
Molybdenum
Eager to get your hands on the strongest, most reliable and (almost) impregnable U locks? Then go for one which has a molybdenum shackle. Granted; molybdenum shackles are expensive but they also provide the most security.
Boron
Thanks to its extreme strength, ultimate ruggedness, and excessive durability, you'd find the usage of boron in heavy-duty applications. Go for it if you cannot afford to pay the asking price of molybdenum.
Solid Steel
Cut-resistant and durable – which means your average bolt cutter won't trouble them – solid steel shackles are also zinc-plated to provide protection against corrosion and rust.
Stainless Steel
In terms of durability and resistance against tampering, stainless steel offers the same performance as solid steel. However, when it comes to standing up to the elements, it goes one better.
Brass
Compare it to steel, and you'd find that brass isn't as durable. However, if all you need is a weather-resistant and lightweight option – one which doesn't have an astronomical price tag as well, brass would perfectly fit the bill.
Plastic
Plastic locks should only be used in those areas where the likelihood of bike robbery is next to none. Otherwise, thanks to their non-existent thickness, these locks won't stand 10 seconds against a low-quality bolt cutter.
Frame Mount
A frame mount is that part of the lock which attaches to your bike's frame. It is into the mount that the lock clips as you're riding on your bike. Depending on your bike's type, you can fix the frame mount in a number of places including the handlebars, seat stays, the top tube, the down tube or even the seat tube.
Why it is important? If the frame mount is difficult to carry – or it is heavy – it will make riding your bike a whole lot more difficult. You'll then have no choice but to invest in an alternative lock.
Therefore, when choosing a U-bolt lock, make sure it ticks all these boxes:
360-degree rotation: That would provide you with a lot of convenient fit options.
Large size: So that it could fit around a wide range of frame tube sizes
Lightweight: That would make the entire lock easy to carry.
Conclusion
There they are; five of the best U-bolt locks that will actually protect your bike.
Provided you want the best U bolt lock around, you cannot go wrong with the ABUS Granit XPlus. Or if you want something a more minimalistic, it is the Kryptonite Evolution Lite Mini-6 that you need. Therefore, regardless of what your needs are, this article has got you covered.
If you have any questions or comments, don't hesitate to leave them below as I will respond to them as soon as I can.
Thanks for taking the time to read this article!
May you ride safe with the wind at your back!