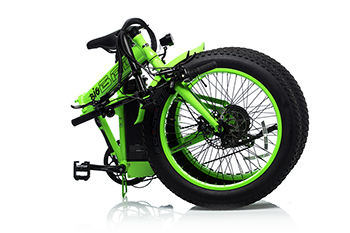 What is the Best Folding Electric Bike?
In this review, you will find out what is the Best Folding Electric Bike, what is an electric bike and what are the benefits if you are cycling with an electric bike?
All about the Electric Bikes
Cycling is the most enjoyable form of leisure, especially during the warm season – from sunny spring to late autumn. Cycling for hard-to-work and stress-affected people not only improves body condition but also provides a relaxing effect. Beautiful weather, sun rays, warm and refreshing breeze in your hair – you will only enjoy the pleasure of cycling.
The electric bicycle is a great vehicle, especially for the residents of large and smaller cities. Moving around the city streets is usually difficult, especially during peak hours, when there is congestion on all major streets. What's worse, urban public transport, i.e. buses and trolleybuses are also in traffic jams.
That is why we have to go cycling, which we can freely pass between the cars stopped in traffic jams. However, not everyone is going to ride a bicycle to work or to school, giving the same argument – not riding a bicycle because I can't seem to be sweaty and tired when I get there.
Finally, there is a solution! In a world that is changing at an ever-increasing rate, the need to improve the most useful human vehicle, a bicycle, invented two hundred years ago has not disappeared. Technical advances have led the technicians to design an electric vehicle that is still a feature of the traditional bicycle.
The electric bike allows you to move in a traditional way, i.e. using human muscle strength. When this is not enough, the engine is powered by a few hundred watts of power supplied by the battery. The engine facilitates human physical effort, and can sometimes completely replenish the energy used by the muscles.
The intelligent control system controls the torque of the propulsion engine, making driving extremely comfortable and even more economical. The travel controller is designed to determine the optimum level of energy used by the bicycle's electric motor, which ensures comfortable driving and maintains the battery's vitality.
The controller increases the power output of the motor as soon as the cyclist accelerates the pace of pedaling. At the same time, the energy management system optimizes the power consumption of the engine for the landscape in question – the power used on the level ground will be much lower than on the hill. The design of the electric bicycle differs little from its classic counterpart. As this electric vehicle weighs slightly more than a conventional bike, its frame has been further reinforced, resulting in a significant increase in structural durability.
The electric bike allows you to get to any city location (to work, to school) quickly and safely, without getting tired in practice, and most importantly … without frustration. And while going back home, you can boldly turn off the engine and have fun riding a bike, exercising your leg muscles. Traveling with an electric bicycle does not bother you, unlike classic bike riding.
People with blood circulation disorders and other ailments and even people who are not allowed to have a physical load on the body and people with disabilities or limited mobility can ride an e-bike. Choosing an electric bike will always help to reach your destination in a timely manner, feeling refreshed and non-sweating. Even with the heat, the breeze of the wind on the road will ensure comfort and pleasure.
Some Disadvantages of the Electric Bike and the Solution
Without questioning the advantages of the mentioned electric bicycle, the question arises – what are the disadvantages? Without mentioning the price, the main disadvantage of this product is its weight. It weighs heavily because of its battery and on a rear or front wheel mounted engine.
However, unlike in the case of scooters or motorcycles, it can be said that these vehicles are relatively lightweight, which is important in assessing our "realities". A man without any hassle will be able to carry this bike to the basement or balcony to protect his property from thieves.
In fact, the slightly higher price of an electric bicycle than a classic analog can cause doubts. The price includes making the bicycle itself and the value of the battery. However, with the prices of other vehicles and their operating costs – the electric bicycle is far ahead of its competitors. As 50% of the price of an electric bicycle consists of the value of the shifts, the regulating system and the battery, it turns out that the price of the electric bicycle is a little different from the average price of a traditional bike.
Finally, now you can buy a Folding Electric Bike. It should be borne in mind that the folding electric bicycle is always ready for the journey. It is very comfortable to carry it with you during some kind of journey. Also, it is more lightweight than the original electric bike. Even when its battery is exhausted, you can safely sit down and start cycling with pedals as you do with a classical bicycle.
Purchasing and maintaining this vehicle costs much less than buying a motorcycle or car. The main advantage of a bicycle is that you do not need to buy gasoline and pay for parking in the parking lot. As the folding electric bicycle occupies ten times less space than a car, it doesn't need a garage. The folding e-bike can be stored in the basement or balcony. Making a budget simply requires some money for bicycle maintenance and occasionally for minor repairs.
The detailed inspection should be done once a year, but it will cost much less than the annual cost of purchasing public transport tickets. Now, you should know what is the electric bicycle in general, what are its pros and cons, lastly, you have found out, that you can buy a folding e-bike for your comfort. Now, let's see the Top 5 Best Folding Electric Bikes.
Top 5 Best Folding Electric Bikes
This is one of the cheapest folding electric bikes. But, the price does not describe the quality. The SwagCycle Classic 12" has the "Pedal-free" power if you want that ease of cycling, you can sit back, relax and enjoy the pedal-free cycling without any hustle and sweating. Also, the built-in headlight and horn allow you to stay safe during all riding of this one of the Best Folding Electric Bikes. What is even better, that the SwagCycle Classic 12" can charge your smartphone while you are riding it, thanks to the micro USB ports that this e-bike has. The SwagCycle Classic 12" is a compatible and eco-friendly electric bike that can easily change your transport type.
This folding e-bike is fully suitable for the adventure seeker, student or traveling adult that needs that extra-help during road trips. As this is a folding e-bike, it would be very easy to carry it with you while on-the-go. The 36V battery of the SwagCycle Classic 12" can be easily fully charged in two and a half hours and you can ride it up to 10 miles per hour. It is not the fastest e-bike on the market, but considering that it is foldable – the e-bike is fast. It weighs 26 lbs. The front wheel size is 12" and the rear wheel size is 10". if you are looking for a folding electric bike for a reasonable price, this could be a great option.
Specifications:
Speed – 15 mph
Range per charge – 12 miles
Wheel Size – 12" front and 10" rear
Battery charge in full – 2.5 – 4 hours
Terrain type – flat
Weight – 29 pounds
Max load – 264 pounds
Bluetooth – No
APP – Yes
Bad Bike Bad Folding Electric Bike
The Bad Bike Electric Bike justifies its name and looks like a real "bad guy". The Bad Bike is a real city resident. It has a folding frame, so you can easily push the bike into the bus or bring it to the room. The device weighs 55 pounds and has a 13 Ah battery that allows you to drive up to 37 miles. Also, you can choose one of three speeds.
The engine starts to rotate slowly, so the required speed is reached gently and without jerking. Also, this is the first fat-tire electric bike in the world. What does that mean? It means that thanks to its fat tires, you can easily ride this bike in the snow, sand or any other kind of surface. This allows you to enjoy the Bad Bike e-bike everywhere and in any kind of weather.
Specifications:
Available colors – Black matt, white pearl, green, aluminum, shocking pink
Weight – 55 pounds with the battery included
Wheel size – 20″
Motor – 250W 36V
Battery – 36V 13Ah Samsung
Battery charge in full – 4 to 6 hours
LCD display type – King Meter Nokee LCD display with a USB socket
Light – LED
Brakes – Tektro Auriga hydraulic
The frame of this electric bike is made of aluminum alloy, strong enough to withstand even 220 lbs of user weight. With a 250W power motor, the XIAOMI QICYCLE TDR01Z can reach a top speed of 12 mph and reach a maximum distance of 27 miles with one charge. It is foldable and very comfortable to carry and fits easily in the car trunk. The foldable e-bike weighs just 31 pounds and its dimensions are 51 x 21.2 x 36 inches. The torque sensor monitors the pedaling force, making riding easier and more enjoyable. The 1.8-inch TFT display on the steering wheel displays dynamic power, speed, distance traveled, calories burned, and more. All calculations are done by a special computer.
There are 4 modes for different needs: fitness, economy, balance, and turbo. With Bluetooth wireless connectivity, the bike connects to a smartphone with a program that allows you to conveniently view various data, while LED lights allow you to travel more safely at night. The bike is powered by a well-known Japanese company Panasonic's 5.8Ah (208.8Wh) lithium battery, which takes about 3 hours to fully charge. If necessary, pedaling with the 3-speed Shimano Nexus system ensures mechanical movement.
Specifications:
Motor – 250W
Maximum speed – 12 mph
Maximum Range – 27 miles
Maximum load – 220 pounds
Battery type – 5.8Ah Li-ion 208.8Wh
Battery Charging time – up to 3 hours
Wheel size – 16"
Frame – Aluminium alloy
*** CURRENTLY NOT AVAILABLE ***
*** CURRENTLY NOT AVAILABLE ***
The PROPHETE foldable electric bike is an ecological, modern e-bike. Unlike the classic bike, Prophete electric bikes help you drive because you have an electric motor built into a wheel or pedal axis. This electric bicycle works quietly and enables you to drive without much effort from the physical cyclist. The Prophete e-bike is widely used in the world and is used by older and younger users alike.
An electric bicycle is an ideal vehicle for movement in overloaded city space and a great idea for relaxation. The engine starts automatically when you start pedaling. The Smart Controller provides as much power as it needs at the time – the faster the pedals are, the lower the pedaling requiring. To stop, it is enough to press the brakes – the engine will be automatically disconnected. Usually, Prophete uses 36V batteries, as well as 48V batteries in high-end models with a capacity of 374 to 468 Wh.
The capacity of the battery depends on the maximum number of miles per pass. The PROPHETE electric bikes use SAMSUNG and AEG batteries. Prophete bikes are powered by the modern brushless AEG or TRIO 250 watt engines that develop from 30 to 100 Nm of torque, so you can enjoy free and sometimes effective acceleration. Engines are mounted in a circle or in the middle axle. The brushless motor does not require any service and is virtually insensitive. Its great advantage is the efficient use of energy, which allows the electric bike to be used for a long time.
Specifications:
Motor – 35V Blaupunkt
Motor power – 250W
Battery type – Blaupunkt 317 Wh 36V 8.8A
Battery charging time – up to 4 hours
Battery range – 49 miles
Gears – Shimano Nexus 3-speed hub
Frame – aluminum alloy
UMA Mini Pro: Folding Electric Bike
*** CURRENTLY NOT AVAILABLE ***
UMA is a summary of the English words "Urban Mobile Actor". They reflect very well the character of the foldable electric bike. UMA Mini Pro is a busy urban resident. It is not afraid to attract the attention of passers-by. The graceful minimalist design does not leave you indifferent. It was created by a fan of origami.
Who else could have come up with such an interesting folding design! Lowering the seat, winding the steering wheel, pushing the frame halfway down and the bike suddenly turns into a 33-pound weight carrier that will fit easily not only in the car but also in a suitcase! The bike features a 120W motor. They are powerful enough for riding in the city.
The energy is supplied by the 3.2 A battery. It takes only 2 to 2.5 hours to charge it. The UMA Mini Pro foldable electric bike has three different driving modes. You can completely disengage the engine and use the pedals by themselves, use an auxiliary electric drive or drive using the power of the electric motor alone. All in all, this is a great foldable electric bike if you are looking for a small, compatible but yet powerful electric vehicle to drive in the busy city streets.
Specifications:
Motor – UMA high-performance 36V 120W
Battery type – imported 36V 2.6 AH battery
Battery charging time – from 2 to 6 hours
Battery range – from 12 to 21 miles
Speed – from 9 to 12 mph
Wheel size – 9"
Frame – aluminum alloy
Summary
This is all Top 5 Best Foldable Electric Bikes. They are a great way to enjoy the pleasure of cycling by reducing pedaling, which can make you feel tired and sweaty. Such bikes are especially useful for people who live around weak roads, have breathing problems, but wanting to do some exercise, ride in the fresh air.
Electric bicycles are a great tool for not only keeping your agility in the middle but also reducing the amount of harmful pollution in the air. Besides, they are all foldable, so even if you are living in a small flat and have no space, you can easily put it under your bed, in a balcony or in the shed.
The frequent stereotype that pedals in the electric bikes are not used at all is wrong. Usually, pedals are still used and the engine is used to achieve the desired speed, for easier climbing or longer distances, such as going to the highway. If there is a need, the engine can be switched off completely and the e-bike can be used as a normal motorless bike. This is a great solution for those who want to go to work without having to break a sweat, but want to work out while driving home.
Foldable electric bikes are great for workers, seniors, and individuals who are having problems with the keeping space. Also, electric bikes are an easy way to reach your destination on time, avoiding all traffic jams and enjoying good weather.
The main and probably the only disadvantage of electric bicycles is their weight. The weight of the battery can be doubled due to the installation of the battery. This results in faster wear and tear on the tires. Another concern for electric bicycle hosts is battery charging. A full charge takes about 4 to 6 hours. However, no special equipment is required for loading, simple sockets are enough.
Therefore, when you stop at a café on a bicycle trip, you can charge it as if you would your smartphone. Therefore, you can choose to buy a foldable electric bike, which does not require much space, also, you can carry it along with you in a trip and when you want it – simply unload it and enjoy the ride.
Hope that you have enjoyed this review of the Top 5 Best Foldable Electric Bikes and found out that there are a lot of small, compatible and powerful-enough e-bikes, that does not require much space and are lightweight.
Because some of these bikes may be unavailable to you in your country, let me know in the comments below if you would like any bike review that only included bikes made or available in one particular country. I would be more than happy to do that if there is a need.
Thanks, and may the wind be at your back!
9 September 2020:
Many more common name folding ebikes have become available since this article was written and I'll be writing an updated article that provides folding ebikes that are more readily available through Amazon for ease of delivery.
FAQ
Are folding electric bikes any good?
Yes, folding electric bikes are good for urban commuting and short trips. They offer the convenience of foldability and the assistance of an electric motor, making them efficient and versatile for various riding conditions.
How do I choose a folding electric bike?
To choose a folding electric bike, consider factors like battery range, motor power, frame size, weight, folding mechanism, and available features that match your riding needs and preferences.
Which is the lightest folding e bike?
The lightest folding electric bike models can weigh around 15 to 25 kilograms (33 to 55 pounds). Look for bikes with lightweight materials like aluminum or carbon fiber for easier portability.
What is the longest distance folding electric bike?
The longest distance a folding electric bike can travel on a single charge varies based on the battery capacity and assistance level. Some models can cover up to 80 to 100 miles on eco mode.
What is the best folding bike size?
The best folding bike size depends on your height and riding preferences. Consider factors like wheel size, frame height, and adjustability to find the most comfortable and suitable size for you.
Related Topics: