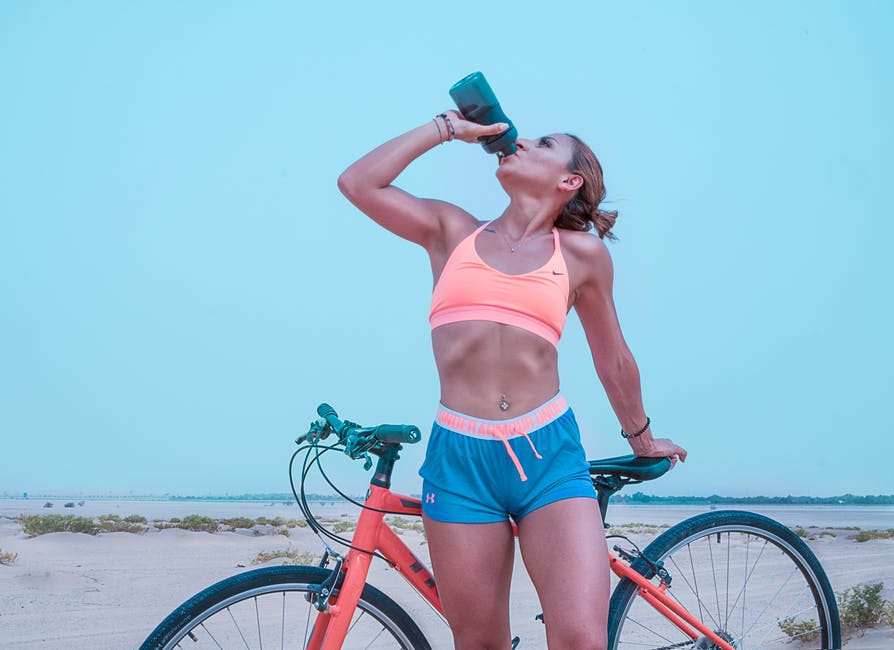 The best bike odometers in 2020 don't just display the distance covered. They are high-end computers that offer turn by turn navigation, show the pace at which you're going, and calculate the time it would take you to move from point A to point B at that speed. And they don't stop at that.
These glitzy gadgets let you connect them with your smartphones as well. Most of them have Android and Apple apps that give you hundreds of routes to choose from. You are also given the option to upload manual routes at the click of a button and sync them with third-party apps.
On top of that, these devices are a cinch to use. Everything that you'd need on the road is visible at their not-so-small screens at all times. They also have huge battery life to make sure that you only have to plug them in after you have reached your destination.
Seems to you that I'm exaggerating things here? Read on to clear all your doubts.
Before you choose the best bike odometer
You need to pay attention to at least three factors. Doing that will make sure that the odometer you'd end up with meets your expectations. It will also help you land the model with the features that would help you most on the road.
Here's how:
1. What type of navigation do you need?
Most of us believe that there is only one kind of navigation – the one we regularly use in Google Maps. Bike odometers show that this belief isn't true. The type of navigation you're going to get from your odometer depends on the unit's price tag. Let me explain.
Budget-oriented odometers only offer simple turn guidance. It's the one which tells you to 'turn right in 50 feet'. These models don't offer other features, including detailed maps, turn-by-turn directions, elevation data, live traffic maps, and more.
Such full-featured navigation can only be accessed on high-end/pricey odometers. You might not need these bells-and-whistles for regular rides near your home. But these features are a must-have if you plan on exploring tracks in far-off and unfamiliar areas.
2. What type of rider are you?
Casual cyclists need not splurge too much money on a bike odometer. The information they are going to use more often – time, distance and speed – is one most basic gadgets can provide. They'd therefore do well not to spend money on an odometer with features they're never going to use.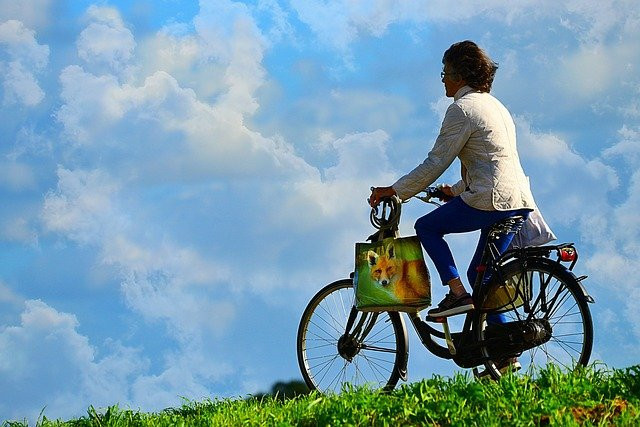 That cannot be said for enthusiast riders. Apart from requiring all the features mentioned above, they won't mind if their odometer displays a few more options, including trip distance, average speed, maximum speed, and total odometer.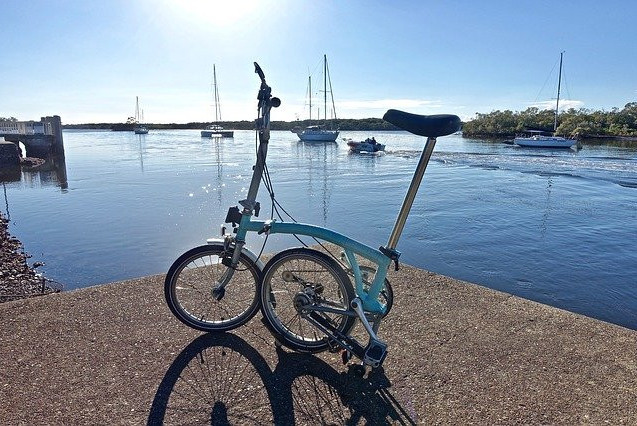 Competitive cyclists, meanwhile, may want all the features mentioned above and more. They might want to go for an odometer that provides heart rate monitoring, cadence, altitude gained, power output and more. Needless to say that a device offering all these features won't come cheap.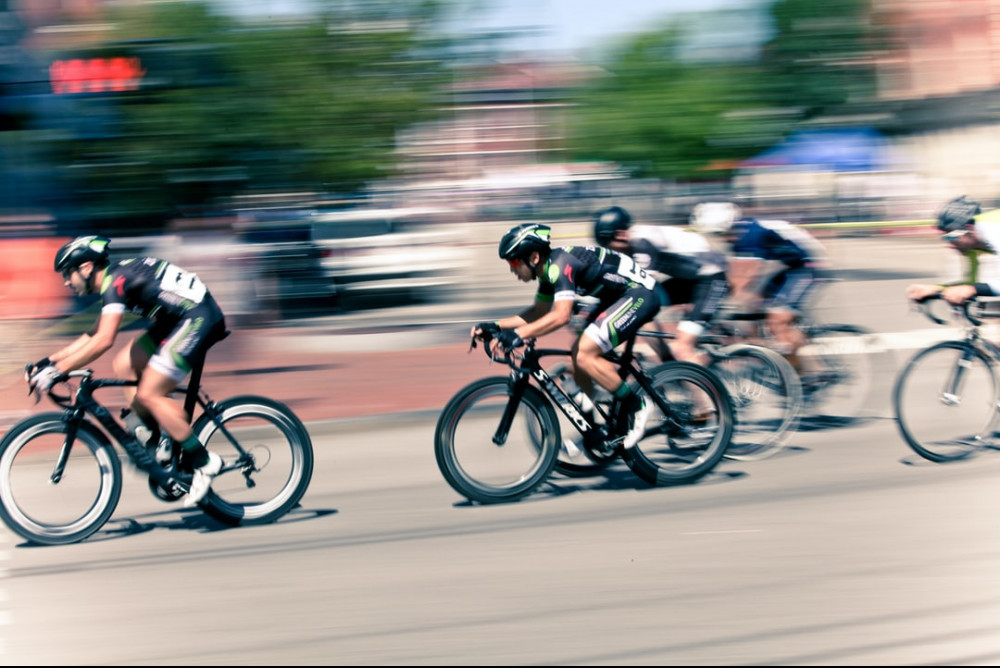 3. Type of connectivity you need
Most high-end bike odometers offer either ANT+ or Bluetooth connectivity. Some that weigh extra-heavy on your pocket will offer both. Whether you choose the first or the second type of model is purely a matter of personal preference. Here I'm going to give you a brief comparison of both.
One fundamental difference between ANT+ and Bluetooth odometers is that the former can be connected to multiple devices at once. Bluetooth, on the contrary, believes in monogamy. That is to say that you can only pair one device with your Bluetooth-supporting odometer at one time.
Still, most people prefer Bluetooth over ANT+. That is mainly because it is far easier to find cycling products (and smartphones) using Bluetooth than those using ANT+. It is this huge range of supporting devices that make Bluetooth-supporting odometers the preferred choice of the majority.
How to Choose the Best Bike Odometer in 2020
Almost all the top 5 best bike odometers in 2020 have the following features in common:
1. Basic Features
Following is a list of basic features that are a must-have for top-rated bike odometers:
Current and average speed: While the former will tell you how fast you're going at any particular time, the latter will measure the time it took you to cover the distance between point A and point B before converting and displaying it in the form of speed.
Big and sharp screen: The last thing you could do when pedaling at breakneck speed is to take your eyes away from the road and fixate them on the screen to see what the display is showing. A big and sharp screen, therefore, is an eye-saver.
Odometer: This feature will tell you how far you've ridden from your starting point. Some odometers also let you carry-on data from previous rides – thereby making sure that you don't have to start from zero every morning.
Remaining battery time: None of us wants to be left with an out-of-power odometer in the middle of our ride. It's therefore necessary to have a device that keeps displaying the remaining battery timing at all times.
Out-front mount: While all the odometers will mount at the bicycle's front, those that give the 'out-front mount' option will allow you to tilt them up and down depending on your viewing preference, thereby making it easy for you to read their display.
2. Advanced Features
You can enjoy these advanced features by pairing your odometer with your smartphone:
Turn-by-turn navigation: Unless you are never going to pedal away from your neighborhood, you'd need this feature. It will help you by not only showing the path you're going to pedal at but would also show (and thus save you from) traffic hot spots.
Extensive compatibility: What is it that separates the best bike odometers from the ordinary ones? They offer Bluetooth as well as ANT+ connectivity. This allows you to pair them with a wide range of devices from heart rate monitors to the latest smartphones.
Heart-rate monitoring: Requiring the strapping of monitor round your chest, this feature tells how fast your heart is beating. You can use the data as an indicator of how much effort you're exerting and to exercise at the right intensity.
Cadence: This feature will tell you how fast you are turning your legs at any particular time. You can use the data provided to train your cadence. This, in turn, will increase your cycling efficiency and let you pedal for long periods.
Live alerts: Some devices like the CATEYE PADRONE SMART+ deliver text, call and email alerts to your phone. They therefore save you from the trouble of having to take out your phone every few minutes.
3. Wireless Data Transmission
Bike odometers have a magnetic transmitter that sends signals to the display unit. This transmitter either uses GPS sensors to transmit signals wirelessly, or it has a wire doing the same thing. Those units that operate wirelessly are better than those who don't. Here's why.
Wireless odometers are easier to install as they require no wires. The absence of wires also makes them less likely to come in the way of your handle. They also provide a cleaner look and are swappable between bikes as well. You can therefore use the same unit for multiple bikes.
All these are reasons why most bicyclists prefer these units over their wired counterparts – which may be on the cheaper side of things but justify their meager price with their lack of features and the lurking danger of transmission wire getting caught and rip out while you're pedaling.
You may find the best wireless bike odometer among these five below:
The Dinoka bike speedometer and odometer is a mini-computer that stores and displays all the data you'd ever need on the ride. This model is also competitively priced and is therefore available in the budget range of many of its potential users.
Features
Four features of this bike odometer make it a must-have. Foremost among them is its large and easy-to-read 2.8'' LCD display. Both the size of the numbers on the screen and the green backlight, make the information it displays highly visible during day and night.
This bike odometer also provides data on 22 functions. It stores and displays data on various indicators, including distance covered, temperature, average speed, maximum speed, and speed tendency. You also get maintenance alerts and there's a low power indicator as well.
Equally praiseworthy is its ease of installation and use. You can effortlessly install this model on bike handlebars ranging between 25mm and 31.5mm in size. The low slung design of the odometer will make sure that it stays out of the wind and experience less drag during the ride.
On top of everything else, this odometer's 'Touch Mode' takes its ease of use to a whole new level. All you have to do to scroll between multiple data-screens is to just gently touch the display. No forceful pressing will be required as you go from one screen to the other.
Pros
Large and easy-to-read screen
Allows operations with Touch Mode
Fully-sealed compact body
Cons
Battery isn't rechargeable
Final Verdict
Whether you're a casual cyclist who rarely ventures out of their neighborhood or an enthusiast who prefers exploring barely-discovered trails, the Dinoka bike speedometer and odometer has all the features to deserve your hard-earned money.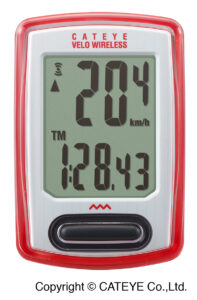 Are you looking for a full-fledged bike computer? Prepared to bay the big bucks to land such a high-end model? If you find yourself nodding in response to both these questions, then you mustn't miss out the features of the CAT EYE Velo Wireless Bike Computer.
Features
Start with a glance at its stats. This bike computer displays useful data including current, max and average speed, trip and total distance, elapsed time, and calorie consumption. Also, on offer is a pace arrow and a clock to remind you of the time of the day.
It gives you the option to set your odometer whenever and wherever you like manually. This way you won't have to start from zero after every battery replacement. It also offers a FlexTight bracket that lets you securely mount this bike computer against your handlebar.
Setting up this model is super-easy. There is none! It offers plug-n-play installation so you just have to wrap this bike computer around your odometer to enjoy its functions. It also takes the guesswork out of the equation by offering a huge number of pre-programmed tire sizes.
Yet another fantastic feature of this model is its built-in CATEYE computer. It automatically detects when you've stopped, say to grab a coffee, use the restroom, or simply at a red light. The computer will then stop counting average speed and time to ensure that the final stats don't get skewed.
Pros
Impressive battery life
Tracks useful stats
Lightweight and durable
Cons
Final Verdict
Apart from boasting massive battery life, the CAT EYE Velo wireless bike computer tracks and displays useful stats and is extremely easy to install. It also stops tracking data when you stop pedaling to ensure that the final stats don't get skewed. What more do you want!
Those of you who regularly pedal their way in rainy conditions need an odometer sealed to the ingress of water particles. Or else you may end up with a model that might stop working at the first hint of moisture. That's precisely why the PRUNUS bike speedometer and odometer merits your attention.
Features
How well does this odometer stand up to the ingress of moisture? The answer to this question can be found in its IP66 dustproof and waterproof rating, making sure that this model keeps on tracking and displaying data on a rainy day. But that's not where the good news stop.
Most budget bike odometers you see on the market have below-average battery lives. This one is an exception. Its built-in CR2032 button cell battery keeps on going for 8 months before needing replacement. Also, on offer is a low-battery indicator that warns you of the impending power shut.
You won't have to pedal on the asphalt to get this odometer going. That is because it has an extremely long induction distance (130cm) that is sensitive enough to measure and display real-time data even when you have mounted this odometer on a stationary bike.
To further sweeten the deal, this odometer offers many practical functions. Our favorites among them are the ones that count the calories consumed, fat burned, kilometer pedaled and of course the distance traveled. It also gives 6 kinds of interfaces and you can switch between them at any time.
Pros
Long induction distance
Huge battery life
Variety of functions
Cons
Final Verdict
The PRUNUS bike speedometer and odometer boasts an IP66 rating, is equipped with a battery that lasts for up to eight months and has an extremely long induction distance. It also offers a variety of functions as well as 6 kinds of interfaces. All these features do more than enough to belie its meager price tag.
Most users think that budget price models keep their price low by cutting invisible corners. The SY bicycle speedometer and odometer shows that that isn't always the case. It is a competitively priced odometer that offers plenty of useful information and also happens to be wireless.
Features
Despite being pretty small and discreet, this odometer has a bright and sharp digital display that makes all its functions easy to read. It also has an LED backlight that automatically activates in low light conditions, thereby making sure that you can keep a careful track of your stats at night.
Setting up this model is extremely easy. SY delivers the computer unit and separate wireless sensors in separate packaging. All you need to connect them is to position both 27″ (68cm) apart. Once both start working, just enter your tire size and the computer will program everything for you.
It comes with a range of functions that tell you all you need to know about your pedaling performance from distance and time to speed. The computer automatically wakes up from sleep mode by detecting vibrations in the bike and also tracks your trip distance as well as average speed.
The relatively small size of this model has allowed SY to make it fully waterproof. That is to say that you can pedal with it mounted on your bicycle's handlebar on a rainy day. There won't be any danger of moisture getting beneath its upper layer and damaging the inner electronic circuits.
Pros
Neat and compact design
Offers wireless installation
Automatically wakes up from sleep mode
Cons
Won't connect with your smartphone
Final Verdict
Although you can't tell that by looking at its price tag, the SY speedometer and odometer has the features to rival it's much pricier counterparts. Hence, the reason why it's a must-have for those of you who want an above-average product at a below-average price.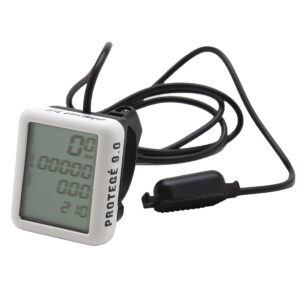 The Planet Bike Protégé 9.0 bike computer offers many outstanding features, is available at a competitive price for a bike computer and is extremely easy to install. Little wonder then that this model enjoys a stellar reputation on the market.
Features
Most bike computers that you see on the market have tiny displays. They force you to fix your gaze on their screen for a few seconds to read the information on display. The Protégé 9.0 is different. Its 4-line LCD screen offers up to five pieces of data in an easy-to-read and large display.
You might also find it pleasing to note that this unit tracks and displays nine functions. The built-in sensors keep track of your speed, ride time, trip distance, and average pace. There is also a dual odometer for 2 wheel sizes and the screen also displays current temperature and time.
The mounting hardware that accompanies this bike computer to your handle bar is extremely handy. It lets you effortlessly install the unit on handlebars between 25.4mm and 31.8mm in size. The included CR 2032 battery can last up to eight months before needing replacement.
Planet Bike enhances this model's reputation even further by backing it with a lifetime warranty.
Pros
Offers 9 functions
Displays 5 pieces of data at once
Has a dual odometer
Cons
Final Verdict
The Planet Bike Protégé 9.0 is an affordably-priced bike computer that provides high-end features and displays them in an easy-to-read font. Its large display as well as the long-lasting battery go one step further to make it the preferred choice of cyclists.
Conclusion
The top 5 best bike odometers in 2020 don't just track the distance covered. They are full-fledged bike computers that monitor and display everything from your bike's current speed, the calories you have burned, and the altitude you've climbed up to.
These devices are also easy to install and their compact shape minimizes the air drag that they have to experience when mounted on your handlebar. You also have the option to install most of them wirelessly. Two of them are water-resistant and the remaining three waterproof. What more do you want!
Did you find the best wireless bicycle odometer in this group? Let me know your favorite!
Admittedly, all five of the above odometers are amazon bicycle odometers. If you know of any that are better and are not on amazon, please feel free to let me know in the comments below and when we have several of them we can do another comparison article for those not found on amazon.
Fair winds and safe trails!
FAQ
Are bicycle odometers accurate?
Bicycle odometers can be accurate if properly calibrated and installed. Factors like wheel size settings and GPS precision influence their accuracy.
What is the best bicycle speed meter?
The best bicycle speed meter varies based on individual preferences and needs. Some popular options include Garmin, Wahoo, and Sigma sports bike computers.
What is the best cycling computer for navigation?
Garmin Edge and Wahoo ELEMNT Roam are among the best cycling computers for navigation, offering detailed maps, turn-by-turn directions, and other advanced features.
Can you put an odometer on a bike?
Yes, you can install an odometer or bike computer on your bike to track distance, speed, and other metrics. They come in various types and are widely available.
Do cyclists use miles or km?
Cyclists around the world use both miles and kilometers. In the United States, miles are more commonly used, while most other countries use kilometers for cycling distances.
Related Topics: