What is the Best Bicycle Chain Lock?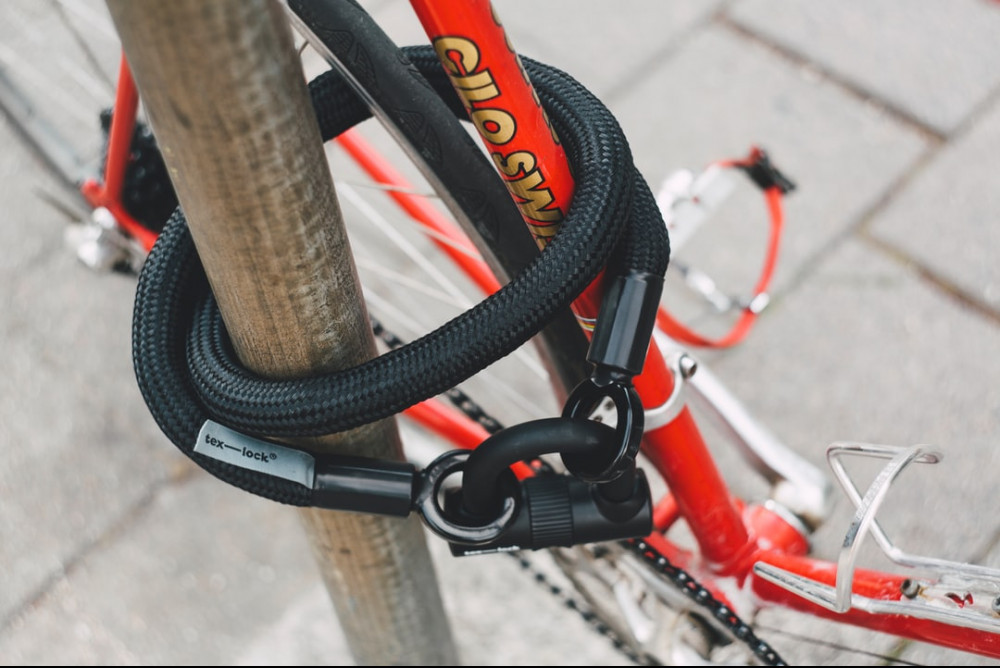 If you want to find out the best bicycle chain lock, one place to start is Amazon. The e-commerce giant has listings of thousands of them. All the best-selling bicycle chain locks are on there and you can read user reviews of each. But there's a valid reason why you're here and not over there.
Scouring through Amazon's chain lock listings is a time-consuming process. There are hundreds of them for almost every bicycle on the road. You'll have to spend days to compare the prices, specs, and features of all the models on that platform. Getting a clear picture would still be impossible. Here's why.
Bicycle chain locks do not come in a one-size-fits-all category. What keeps your friend's bike safe may get yours stolen. You need a lock that was specifically made for your bicycle. That's where this article is going to help you by recommending the five best bicycle chain locks on the market.
Security is rated on a scale of 1-5 with 5 being the highest.
| | | | | | |
| --- | --- | --- | --- | --- | --- |
|   | Security | Weight | Thickness | Length | Cost |
| Titanker Bike Chain Lock | 3 | 1.75lbs | 6/8/10mm | 40″ appx | Low |
|   | 5 | 5.3lbs | 10mm | 32″ | High |
|   | 5 | 5.62lbs | 10mm | 35.5″ | Medium |
|   | 4 | 15.25lbs | 14mm | 39″ | High |
|   | 4 | 8.27lbs | 12mm | 55″ | Very High |
Before you choose the Best Bicycle Chain Lock
There are at least three factors that you need to consider. Doing that will make sure that the chain lock you're going to get will suit your bicycle. It will also give you peace of mind that the model you're investing in will keep your bike safe.
Here's how you can decide that:
1. Decide what you're after
I have already stated that bike locks do not come in the one-size-fits-all category. They are instead available in two types: stationary and portable. Both these types differ in their asking prices, the level of protection that they provide and the mechanism they employ to keep your bike safe.
Stationary Bike Locks

These are incredibly heavyweight locks that require you to leave them in place. They allow you to secure your bike against a nearby object, such as a pole. Stationary bike locks justify all this effort by providing extreme security.
On the flip side, these bike locks weigh a ton. They might not suit you if you're targeting a model that you can easily carry around in your backpack when it's not securing your bike.

Portable Bike Locks

These locks are for those of you who have to carry around their bike as they commute for work- or education-related purposes. They are incredibly lightweight and can be carried around with ease.
Having said that, you shouldn't expect portable bike locks to provide the same level of protection as their stationary counterparts. As their reduced weight does have a negative impact on their sturdiness.
2. Thickness of the chain link
The thickness of the chain lock's chain link has an essential bearing on its sturdiness. Chain links that are too thick (greater than 16mm) help the lock secure the bike better than those that are on the thinner side (less than 13mm). Here's how:
Less than 13mm: Can easily be cut by medium-size bolt cutters
Between 13 and 15mm: Can only be cut by large-size (36'' and 42'') bolt cutters
16mm and above: Can only be cut by power tools
3. Length of the Chain Lock
Their added length makes chain locks come across as a better alternative to U-locks. The additional inches allow you to secure your bike to a various range of objects. You're no longer forced to tighten the chain to the pole right next to your bike.
That isn't to say that chains with long lengths come without any shortcomings. One of their most significant downsides is that the added chain length bears heavily on the lock's weight. That means that the greater the length of the chain, the more weight you'll have to carry around.
Hence the reason why we recommend that you choose the shortest length possible. It will not only allow you to secure your bike wherever and whenever you want, but the reduction in chain length will also keep the lock's weight under control. You'd then be able to carry around the lock with ease.
How to Choose the Best Bicycle Chain Lock
Almost all the best bicycle chain locks have the following features in common:
1. Sold Secure Certification
Assuming that you don't know it already, Sold Secure is an independent body that tests locks and rates them based on the security level that they provide. It, therefore, makes it easy for consumers like you to pick a lock that provides your desired security level. Here's how it does that.
Sold Secure classifies each lock based on the amount of time it would take an average thief to defeat it. It then provides the lock with one of four classifications, namely: Bronze, Silver, Gold and Diamond. Read on to know about what each of these ratings means:
Bronze – These locks stand firm in the face of the 'opportunist' thief. You can count on them to protect your bike in an area where robberies are unheard of, or happen very, very infrequently.
Silver – Locks that are silver-rated offer a balance between 'security' and 'cost'. They are mostly made for small town or village-based bicyclists and for bikes that don't attract second looks.
Gold – Such locks are aimed to protect 'mid-to-high-value' bicycles. It would take an average thief more than an hour to defeat them. And even then they'd have to use sophisticated tools.
Diamond – They protect e-bikes and other high-value bicycles. Diamond locks are made to protect your bikes in high-risk areas, such as city, big town or university campus. You should go for them if your bicycle is uber-expensive.
2. Locking Mechanism
Once you've made sure that your lock comes with a Sold Secure rating, the next thing you should do is to check out its locking mechanism. Chain locks allow you to secure them in place using either a key or a dial-type combination. Both these mechanisms have their pros and cons. Read on to know about them:
Keyed Locks
Keyed locks do tend to be more secure than combination locks for various reasons. Their keyhole's well-guarded placement protects it against shimming better than that of a combination lock which is more exposed and therefore more susceptible to shimming.
On the flip side, keyed locks are prone to picking. Any expert thief can unlock the cheap keyed locks by manipulating its components without the original key. The inexpensive keyed locks can also be cut through with the help of a bolt cutter. So you need to invest in a high-end key lock.
Combination locks
These models secure your bike by locking themselves as per a particular set of numbers. They are immune to picking and are as strong as the number of digits whose combination is required to open them. You should therefore invest in a combination lock whose combination of numbers is greater than three.
One major downside of combination locks is that they require you to force the numbers that are required to unlock them. That might be a huge chore for those of you who are forgetful, as they will have one more password that they have no choice but to memorize.
3. Balance between Portability and Sturdiness
Most people looking for secure bike locks fall in one of two categories. The first are those who want their chain lock to be portable. They are mostly the office- and the school-going crowd and want something they can easily carry around in their backpack.
Then there are those people who park their bike in high-risk areas. Portability of the lock is also important to them, but they are willing to carry a few extra pounds if their lock can act as a serious theft-deterrent. That is to say that the weight of the lock isn't a deal maker or breaker for them.
Both these people are missing out. That's because the best chain locks that you'll see below provide the best of both worlds. They not only provide huge protection but their below 10 pound weight makes them (relatively) easy to carry around, as well.
Best Bike Chain Lock – Reviews
The Titanker bike chain lock offers many outstanding features, is available in a budget price and is extremely portable. Little wonder then that this ultra-secure chain bike lock is selling like hot cakes on the market.
Features
Most bike locks that you see on the market only safeguard your bike. This model is different. It also protects the safety of your lock key. You can't pull the key out of the lock as long as the latter isn't totally locked. This mechanism allows you to retain the original key for an extended period.
Yet another notable feature of this model is that it comes with two keys. You can use the first one to open/close the lock during your daily routine. The 2nd key, meanwhile, can rest easy in your room's drawer and can be turned to in case the first key gets lost.
Equally praiseworthy is this model's sturdy construction. Its chain-links are made of 6mm heavy-duty steel which is known for its cut-resistance. The entire chain is protected by a dust cover and protective cloth sleeve that protect it from catching rust and resistance.
Pros
Protects Keys from Getting Lost
Heavy-duty Steel Chain Links
Cloth Sleeve and Dust Cover
Low Cost
Cons
Final Verdict
There aren't many sturdy chain bike locks on the market that are available at a budget price. Those that are, cut corners to keep their asking price low. The Titanker chain lock has no such shortcomings and is, therefore, a worth-having option.
Are you looking for a chain lock that would protect your bike in high traffic areas? Prepared to pay the big bucks to land such a model? If your answer to both these questions is in the affirmative, then you must check out the features of the Hiplock Gold wearable chain lock.
Features
Start with a glance at its construction. This chain lock is protected by 10mm hardened steel links that are joined by a 12mm steel shackle lock. Both ends of the chain bolt snugly into the shackle and are covered by nylon fabric to remain free of rust and corrosion.
The steel chain measures 32 inches in length and is therefore long enough to wrap around your front wheel, frame and a nearby sturdy object. This makes for a lock that is very tough to pick for most thieves, as long as you don't leave your bike parked in the same spot for days.
To further sweeten the deal, Hiplock has made this model a cinch to carry. Its 85cm circumference is fully adjustable to accommodate waist sizes between 28'' and 44''. Also, on offer is a speed buckle fastener that wraps the chain snugly around your waist. You can even wash this model.

Pros
Sold Secure Gold rating
Adjustable to waist size 28-44″
Removable, durable and washable
Cons
Final Verdict
Thanks to its Sold Secure Gold rating, 10mm hardened steel chain and speed buckle fastening – not to mention its washable nature, the Hiplock Gold wearable chain lock does everything to justify its otherwise astronomical price tag.
Here is another Sold Secure Gold rated lock whose price tag is not that bad. It is available in three sizes – 35.5in, 43in, and 55in – and also boasts a patent-pending magnetic closure. Read on to know more about this model.
Features
Almost all Seatylock Viking chain locks are dual-purpose models. They boast a 10mm hardened steel security chain whose square links make it impossible for the opportunistic thief to get past them. All of them also have a neoprene sleeve that protects your bike from scratches.
That is precisely what this model does as well. It goes one step ahead by offering a magnetic silicone lock whose magnetism will help this model stay in place. This will allow you to use only one hand to wrap this lock around your bike and lock it tight. Hence, why it has received 18/18 rating from Sold Secure.
All-weather protection is on offer from this unit as well. Its keyhole is encapsulated in a cover that protects against the intrusion of water, dust, dirt or debris. The water-resistant neoprene cover, meanwhile, protects both the steel chain as well as your bike from rust and scratches.
Pros
Sold Secure Gold rating
Magnetic silicone lock
2-year warranty
Cons
Only available in three sizes
Final Verdict
Multiple features of the Seatylock Viking Chain Lock make it a must-have for your bike. It is Sold Secure Gold rated, has a magnetic closure and available in a price that is lower than what most other Gold rated bike locks charge you. What more can you ask for!
The Kryptonite 1415 is one of those bike locks that are too big and too heavy to transport. It will serve you in the best possible manner if you're one of those riders who regularly lock up your bike at a bike rack for extended periods.
Features
This bike chain lock is heavy. Its chain measures a full 5 feet in length whereas the entire lock weighs over 15 pounds in total. Both these features make this unit one of the least-portable locks on the market. They also make it incredibly secure and durable. Here's how.
Its 5-foot chain is protected by 14mm 3ft hardened manganese steel. On top of both is a weather-resistant nylon sleeve. The entire structure is protected by a 15mm steel shackle, PVC coated disc lock. Together all this paraphernalia makes this lock a serious theft-deterrent.
You will also get three keys alongside this lock. One of them has a built-in HID light and the Kryptonite's Key Safe Program protects all the keys. This means that you'll be eligible to get one free pair of replacement pair of keys over the shelf life of this lock.
Pros
Sold Secure Gold Rating
Hardened Double Deadbolt
Sliding Dust Cover
Cons
Final Verdict
Do you want a bike lock that can keep your bike in its place in a den of thieves? Then this model is just right for you. It may not be the most portable chain lock out there, but for those of you who regularly park their bike in high-risk areas, they won't mind carrying around a few extra pounds for added security.
The Abus Granit 59 chain lock is truly 'extreme' in every sense of the word. It weighs over 8 pounds and costs twice as much as some of the other models in this review. The dimensions of this model, as well as its material of construction, also point to its sturdiness.
Features
Most chain locks that you see on the market allow their chain and lock to work independently. Abus makes sure both work in tandem. While the chain helps the lock wrap snugly around the bike, the lock makes sure the chain stays in place. This '2-in-1' combo makes this model ultra-secure.
You cannot question the credentials of this lock either. It is equipped with a 16mm shackle that is less than the 18mm of Fahgettaboudit but deters theft attempts equally well. Also on offer is a double-locking mechanism that means that two cuts would be required to get past this lock.
More than 1 million different key combinations make this lock almost impenetrable to lock picks. The presence of a plastic-covered body and fabric sleeve protects the lock from rust and corrosion and your bike from scratches. All of this is to say that nothing but an angle grinder can defeat this lock.
Pros
1 million different key combinations
Has a 16mm steel shackle
Slide cover protects the keyhole
Cons
Final Verdict
It goes without saying that the Abus Granit Extreme Chain Lock is one of the most heavy-duty models on the market. This unit might not be the most portable out there, but it makes up for its added weight by providing the type of security other chain locks can only dream of.
Conclusion
Your search for the best bicycle chain lock has reached its conclusion. Apart from giving you a list of features that are common between all the top-rated locks, I have also provided you with models that possess those same features.
Aside from that, I have also tried to answer the common queries most bicyclists may have about their chain locks. That means that I have done my part. Now the onus is on you to do the needful and select that model from the foregoing list that best meets your eye.
If you have had experience with any of these locks, let me know in the comments below.
Or, perhaps there are other locks on the market that deserve my attention. If so, let me know and I'll see if I can do another writeup on them, as well.
FAQ
Do chain locks work for bikes?
Yes, chain locks work effectively for securing bikes. They are sturdy and provide a high level of security against theft when used properly.
Which lock is best for a bike?
The best lock for a bike depends on your needs and budget. U-locks and heavy-duty chain locks are among the most secure options, while cable locks offer lighter security.
What is better than a chain lock?
High-quality U-locks are often considered more secure than chain locks due to their design and construction. They are harder to cut with bolt cutters.
Are chain locks worth it?
Yes, chain locks are worth it for their security and versatility. They are suitable for various bike types and can be used in different locking scenarios.
Can bolt cutters cut a Kryptonite chain lock?
Standard bolt cutters are not effective against high-quality Kryptonite chain locks with hardened steel construction. They are designed to resist bolt cutter attacks.
How much should I spend on a bike lock?
Investing in a high-quality bike lock is crucial for security. It is recommended to spend at least 10-15% of your bike's value on a reliable lock for adequate protection against theft.
Related Topics: