A folding lock is one of the three main types of bicycle locks, the other two being the chain lock and the U bolt lock. You can see my review of U bolt locks on the "What is the Best Bicycle Lock" page. My review on chain locks will be written after this review.
What is a folding lock?
A folding lock is a series of long metal plates that are connected by rivets. The rivets allow the lock to form different shapes. This allows more flexibility when you want to lock your bike at your destination. After you fold the lock it is very compact and easy to carry.
There are three main advantages to using a folding lock.
Advantages
As opposed to a U bolt lock, a folding lock gives you more adaptability to making different shapes for locking around different objects that you will encounter when you get to your destination. A second advantage is folding locks can be easily stored in a backpack or large pocket because of their small, compact shape when folded. The third advantage is that folding locks are lighter compared to chain locks and U bolt locks. What are the disadvantages?
Disadvantages
The main disadvantage of a folding lock is that they aren't as secure as a U bolt lock. Why? Because they have more vulnerabilities. The rivets and joints are a weakness and can be attacked. If the lock is damaged it may not be able to be folded or used as it was intended to be used and you'll be buying another lock.
Below we show you a variety of folding locks, from the inexpensive unrated security locks to the high end "Sold Secure" Bicycle Gold rated folding bike locks. It will be up to you to choose what is most important for securing your folding bike and what is most compatible to the folding bike design. Not all locks can be mounted on all bikes with the brackets or mounts that come with these locks.
| | | | | | |
| --- | --- | --- | --- | --- | --- |
|   | Folded Dimensions | Weight | Circumference | Security Rating | Mount |
| FOLDYLOCK Compact Bike Lock | 1.6″ x 2.35″ x 7.45″ | 2.2lbs | 33.5″ / 85 cm | Sold Secure Bicycle Silver | Mounting Case |
|   | 1.57″ x 2.36″ x 4.72″ | 1.4lbs | 35″ / 90 cm | n/a | Bracket |
|   | 2″ x 2.25″ x 10.25″ | 2.8lbs | 33″ / 83.8 cm | n/a | Bottle Mount |
|   | 2.1″ x 2.2″ x 6.3″ | 1.28lbs | 24″ / 60.9 cm | n/a | Bracket |
|   | 3.27″ x 5.28″ x 11.97″ | 0.8lbs | 33.5″ / 85 cm | Sold Secure Bicycle Gold | Bracket |
Before you choose the best Bike Folding Lock
So, you want to purchase a folding bike lock for your folding bicycle. Luckily, there aren't as many folding locks as there are folding bikes, so it won't be too hard to choose the right folding bike lock for you.
I've broken it down into five main areas to consider. Why you want the lock and how are you going to use it? What type of mount is right for your folding bike? How difficult is it to attack and disable the lock? What are the dimensions of the lock? And, finally, how much does the lock cost?
1. Purpose for the Lock
Why are you buying a lock for your bike? Is it to Secure the Bike so no one can steal it? Is it to Stop someone from walking away with the bike when you've stopped to go into a store for a minute? Or, is it a Secondary Lock so someone doesn't take a wheel since you've secured the frame and the other wheel with a U bolt lock?
Knowing the answer to that question will help determine which folding bike lock is right for you! Because no two folding bike locks come with the same amount of security against an attack to steal your bike. Even a single manufacturer of folding bike locks will produce different models of folding bicycle locks that bring with them a different degree of protection from theft. Therefore, you must carefully select the lock that will serve your purpose for having a lock in the first place.
2. Mount
Some would say the mounting of a folding bike lock aren't as important because it is small and can be carried with you. Well, if that's the case then the type of mount isn't as important as some of these other factors in helping you choose the right lock.
However, if you want to mount the folding bike lock then you need to determine which mount is best for you and your bike. Do you want to use your water bottle mount for the folding bike lock? This would make mounting the lock much easier if the mounting points are already built into the bike. Be sure to check customer feedback before buying for this because sometimes the placement of the water mount is not compatible with the final placement of the folding lock on the bike.
Some folding bike locks have a Separate Bracket Mount. How strong is this mount? How easily can it come loose? How difficult is it to put this mount on your bike? These are all questions you need to answer before you select this type of mount.
Is a Temporary Mount all that you want? This way you don't need to actually carry the folding bicycle lock in a backpack or bag while cycling. You mount it for the ride and then you take it off when you get back home. Key to a temporary mount is that it does not come loose while you are riding. There's nothing worse than fighting with something to stay on your bike while you are trying to enjoy your ride. This would be especially true if you are riding out in the wilderness on a mountain folding bike where the bike frame will be constantly jolted and jarred while riding.
3. Security Rating
If you have spent several thousand dollars for your folding bike, then the security rating may be the place to start in your selection of folding locks. There are two main sources for security ratings when it comes to securing your bicycle. One is Sold Secure and the other is the ART Foundation in the Netherlands. Both sites use their own rating system and simply rate or grade the lock based on their respective scale. However, Sold Secure will also give you contact information for the company that built the lock, as well as, the company website of the lock. Sometimes doing a Google search on a particular lock will bring you to a page like mine where I've reviewed it, but you wanted to go to the original manufacturer itself to see more about the lock than I or other reviewers provide.
The Sold Secure ratings go from best down; Diamond, Gold, Silver, and Bronze. The ART Foundation of the Netherlands use a star system from 5 to 1 stars with 5 being the highest quality as far as the security of the lock goes.
Of course, there are locks that have no security rating that come from reputable lock manufacturers. In my opinion, if it is a reputable lock manufacturer then the cost can tell you quite a bit about the quality of the lock. As they say, "you get what you pay for". If it's an unknown or not a well-known manufacturer of locks then buyer beware. Just because it's an expensive lock, that doesn't mean that it's a high quality lock. Be sure to check reviews and even there if there are a limited number of reviews take the reviews with a grain of salt.
4. Dimensions
There are several dimensions that could be considered when selecting your folding bike lock; Folded Dimensions, Circumference for Wrapping around an Object plus the Bike Frame, and the Weight of the Lock.
The folded dimensions are important in two different cases. One, if you plan on carrying the lock in a bag, pouch, or pocket of some type; will it fit? The weight would also be part of that question, how much weight can that place hold without being torn or damaged?
The circumference is important because the lock will do you no good if the object you want to wrap the lock around is too big for the lock to encircle. When doing my research on these locks the hardest measurement to find was the circumference. Some would just list the diameter from the farthest points, well that doesn't tell me anything! I'm not going to put the lock around something that just happens to be the same size and shape as the lock. If nothing else I would want both measurements.
5. Cost
As I said earlier in this article, you get what you pay for in life and locks are not much different. You can buy an inexpensive lock but you are more than likely not going to get much security for your cost. Perhaps, you just want something to deter someone from walking off with the bike because you are in a relatively safe neighborhood or a small town where everyone knows everyone. This is something that you must decide. Basically, it is cost versus risk, and that goes with locks of all types.
As far as medium or high priced locks go, I think it depends on your comfort factor you want when you leave you bike alone. If you spent $2,000.00 on a bike and spend 10% on the lock, or $200.00 then in the end that is not a bad investment. If you are going to buy a high end lock be sure to check it is security rating on Sold Secure and the ART Foundation of the Netherlands to ensure you are getting the value for your money.
Best Folding Bike Locks – Reviews
This is one of two folding bike locks that I am introducing that is Sold Secure rated. This lock is rated on Amazon as of this writing with 465 customer ratings averaging at 4.5 out of 5 stars. The primary products produced by this company are bike locks.
Features
Hardened steel links and the rivets are designed to make them difficult to be sawn or cut. Rust-free metal components with UV-protected plastic covering.
Stored inside frame mounted case meant to keep the lock from shaking while riding.
Fast and easy to lock and unlock the bike and the plastic covering prevents scratching the frame.
Pros
Sold Secure Silver Rating
3x sets of keys plus duplication code
Lightweight easy to carry
Given the Amazon rating of "Amazon's Choice"
Cons
Heavier than most of the locks reviewed on this page.
Final Verdict
My final verdict on this lock goes along with what I said about choosing a folding lock to begin with, if security is a big concern go with a U bolt lock. However, if for whatever reason security is not a great concern this would make a good lock that would deter theft from the average criminal or someone just looking to walk away with a bike.
This is a very small and compact folding lock. When it's mounted on the seat stem facing the back it just looks like it is part of the bike with a red reflector on it.
Features
Easy to carry and doesn't have to be mounted on the bike, if it is mounted on the bike there is a reflector that comes with it if mounted on the rear of the seat post.
Aluminum Alloy is used with a plastic covering to prevent scratching.
The lock comes with 3x Keys.
Pros
Large Circumference
Smallest lock when folded and easy to carry in a bag or pocket
3x sets of keys
Low cost
Cons
No Security Rating, not recommended leaving it in an unsafe area against bike thieves.
Final Verdict
The one reviewer that rated the lock a 1-star said they were not able to get the key out of the lock after they unlocked it. They also said they had bought a Foldylock at the same time, so returned this one and kept the foldylock. Here again my gut feeling says if you want the portability of a folding lock and security you'd go with a Sold Secure lock; otherwise, if you are just looking for a deterrent then maybe this is the lock for you.
The Lobster Lock sure makes an interesting working lock. It fits where your water bottle holder would go and you can screw your water bottle holder on to it.
Features
The lock is durable and can be permanently attached to your bicycle, no need to carry it in a bag. The steel is heat treated, hardened links.
Secures the frame and front wheel to the bike rack when parked.
Don't have to worry about forgetting your lock as it is part of the bike.
Pros
Convenient to not have to carry the lock when it is not in use.
Won't forget to bring your lock along with you.
Even though you mount it where the water bottle goes you can mount the water bottle on top of it.
Cons
No Security Rating
Lack of flexibility when choosing where to park to be able to lock it since it is attached to the frame.
Final Verdict
If you have a commuter bike and you know where you park the bike has bike racks that are convenient for using this lock then maybe this will be good for you. Also, if you are the type of person who constantly forgets to bring your lock, then this is perfect for you. However, if you need more flexibility when locking up your bike then perhaps you need to look closer at one of the other folding locks or even a chain.
It appears that this would be an easy to mount lock. The lock is coated with a rubber paint to prevent scratching. The size of the lock limits where and how it can be locked.
Features
Hardened alloy steel, covered by PVC plastic.
Lightweight and compact, easy to install.
Comes with a set of 3x keys.
Pros
Easy to mount
Does not rely on water bottle mount for mounting
3x sets of keys
Cons
No Security Rating
Shortest circumference of these locks
Final Verdict
Personally, I don't like the way the lock mounts on the stem of the bike. For others, it may be convenient and exactly what they want. I also don't like how small the circumference of the lock it as it would limit where and to what I could lock the bike. One advantage of having a good folding bike, though, is I can carry my bike inside.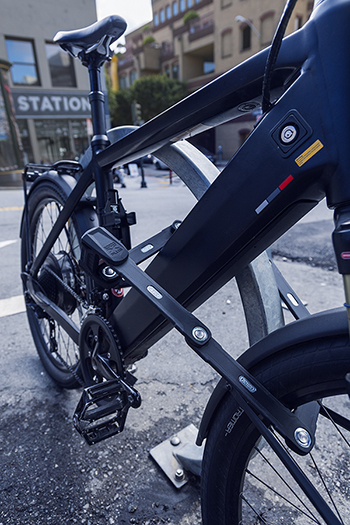 If you are at all familiar with locks then ABUS is a household name for quality locks. This one is no exception with a Sold Secure Gold rating.
Features
5.5mm hardened steel bars
High quality lock to prevent it being picked
High quality shield to prevent hinge sawing
Pros
Sold Secure Gold Rating
Top of the Line ABUS folding lock
Easy to install, easy to use
Cons
Longest Dimension when Folded
Expensive
Final Verdict
If you have a high value bike you want to lock using a folding lock then this provides the best value for that type of lock. Or, if you park in a little higher risk area and you need a good folding lock to protect your bike from being stolen then here again this is a good bet. Bear in mind what I said in the beginning about U bolt locks compared to folding locks, though.
How to Choose the Best Folding Bike Lock
This article introduces what appears to be the top 5 popular folding bike locks on Amazon. That means they come in a range of quality and prices. From what I see here you really do get what you pay for so bear that in mind when it comes time to make a decision.
If you are only interested in the best quality secure folding locks then I would take a serious look at the ABUS line and right after that the foldylock line. Both lock manufacturers make a variety of models at different Sold Secure ratings.
So, it all depends on why you want a folding lock and how much security you need to go with it.
Good luck in your search for the best folding bike lock that suits you!
Vendor Websites
FAQ
Are folding bike locks better?
Folding bike locks offer convenience and portability but may not be as secure as heavy-duty chain locks. The level of security depends on the lock's design and materials used.
What is the best way to lock a foldable bike?
The best way to lock a foldable bike is to use a high-quality U-lock or heavy-duty chain lock. Thread the lock through the frame and one of the wheels, and secure it to a fixed object.
Are folding locks better than chain locks?
Chain locks generally offer higher security due to their sturdiness and thickness. However, folding locks are more portable and suitable for low to medium-risk areas.
Which lock is best for a bike?
The best lock for a bike depends on your needs. U-locks and heavy-duty chain locks are among the most secure options, while folding locks provide convenience for short stops.
Which bike locks are safest?
Heavy-duty chain locks and high-quality U-locks are considered the safest bike locks, providing strong protection against theft.
Is there a lock that cannot be cut?
No lock is completely impervious to cutting, but high-quality locks with hardened steel construction and anti-cut features offer significant resistance against cutting attempts.
Related Topics: