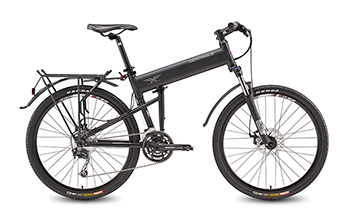 Know who makes a fortune but not quality?
Manufacturers of folding mountain bikes.
Despite claiming to produce the best folding mountain bikes, all these businessmen do is churning out average quality bikes. They do that thinking that they'd get away with it as, in their opinion, an average buyer isn't aware of the features which separate the best folding mountain bikes from the riffraff.
Hence, the reason I came up with this article.
In addition to telling you which features to look for in a folding mountain bike, I'm going to recommend the top 5 models around. Try them out, and you'd see for yourself what crap some manufacturers are selling you in the name of folding mountain bikes.
| | | | | | |
| --- | --- | --- | --- | --- | --- |
|   | Weight | Tire Size | Speed | Frame | Suspension |
| Xspec 26″ 21-Speed | 42.5 pounds | 26'' | 21 | Tensile Steel | Dual |
|   |   |   |   |   |   |
| Cyrusher FR100 | 41 pounds | 26'' | 24 | Aluminum | Dual |
| Columba 26″ Folding Bike | 33 pounds | 26'' | 18 | Steel | No |
| Montague Paratrooper Pro 20'' | 31 pounds | 20'' | 27 | Aluminum | Dual Lock |
Before you choose the best folding mountain bike
Visit the market, and you'd see that folding mountain bikes do not come cheap. That means you cannot afford to experiment. Therefore, it is imperative that before you select a bike, you're fully sure that it will suit you.
Here's how you can decide that:
1. Measure your size
Since you're going to order a bike online, you won't have the luxury to ride the bike and tell whether it fits you or not. What you'd have to do, instead, is to select a bike which fits your size. Get this step – that of measuring your size – wrong and you might have to ask for a replacement.
To measure your size, stand against a wall and ask another person to use a measuring tape to calculate your height from head to toe. Then, once you've measured your height, use a sizing chart
to try to get the best frame size for you.
For instance, if your height ranges between 4'10'' and 5'2'', a bike with a frame size ranging between 13 inches and 14 inches bike would suit you. Conversely, if you're on the taller side – which means you're 6'4'' or above – I recommend that you get a bike with a frame size of 23 inches or above.
2. Determine your riding style
In contrast to what most people believe, your riding style isn't the way you drive the bicycle. Instead, it is the terrains you choose to ride your bicycle on which determine your riding style.
For instance, if you're going to ride your bike on rough trails – and you want it to withstand bumps without breaking a sweat – make sure it has thick tires (26-inch diameter), suspension forks and upright handlebars.
Though these bikes won't be the speediest, they will make your rides comfortable by absorbing bumps with aplomb.
Conversely, if all you're going to do is to ride your bike on solid pavements – which means you need a folding road bike and NOT a mountain bike, you can easily make do with a bike which has thinner tires (23-inch diameter), no suspension fork and bent-back handlebars.
Granted; these tires won't absorb road bumps as easily as their bigger counterparts, though they would compensate by providing more speed.
3. Know the Folding Method
As veteran users of folding mountain bikes might testify, there are four major methods with which you can fold mountain bikes. They include half folding, vertical folding, triangle hinge, and magnet folding.
Half/Mid Folding
Visit the market, and you'd see that this folding method is the most common. Its name betrays how you could fold this bike – as you can fold in its frame at the halfway point using a hinge. It is very likely that the hinge will come with quick-release clamps which make folding/opening the bike a cinch.
Vertical Folding
Although this method is similar to its half folding counterpart, but, instead of letting you fold it horizontally, it folds vertically. That happens due to the two hinges which you might find either on its chain and seat or on the main tube. Also, since they fold vertically, these bikes require less storage space.
Triangle hinge
Provided your bike has a triangle hinge, you can fold down its wheel and rear triangle and then flip them forward on the inner side of the main frame tube. Granted; this method sounds complicated but it makes setting up and folding down the bike a lot easier.
Magnet folding
Bikes which have this folding mechanism have a magnet located on their rear, with which you can connect the entire back wheel section to the front frame. As you do that, the rear wheel will rotate forward, allowing the bike to fold vertically. As a result, you don't have to carry the folded up bike as you can instead roll it on its rear wheel.
Best Folding Mountain Bikes – Reviews
First up in our list is the Xspec 26'' folding mountain bike whose high tensile steel frame, enhanced stopping power and competitive price has made it a darling of bikers.
Features
Starting with a glance at the frame of this bike, and the usage of high tensile steel means it could withstand rough trails without breaking a sweat. Available in three colors – black, white and yellow – the frame offers a high amount of shock absorption and you can fold it within seconds as well.
Additionally, to enhance the comfort of the rider and give him maximum controlling power, this bike comes loaded with a front and back suspension fork. That means you could ride this bike on bumpy terrains and it would still keep the off-road vibrations at bay.
Whether you want to punch the bike in high gear or cruise, you could do both thanks to its 21 speeds function. Remember, the lower the gear count, the more easily the bike would overcome steep ascents. Conversely, provided you can handle the resultant speed, switch to high gears for a thrilling descent.
Also, to make sure you remain safe while riding, this bike comes with disc brakes which provide excellent braking power regardless of your running speed or the trail you're riding on. Complementing the brakes are the 26'' wheels which let you conquer any rough terrain with ease.
Pros
Has disc brakes
High tensile steel frame
Front and rear suspension fork
Double alloy rims
Cons
Final Verdict
Compare this to other models in this review, and you'd see that the Xspec 26', despite its above-average features, is available at a reasonable price. Therefore, if you want the best of both worlds – good performance and competitive price – go for it.
Though not coming from as famous a brand as Xspec or Camp, the Cyrusher has received huge attention for its sleek construction, durability, and functionality. Also, the fact that it comes 90 percent assembled has gone very well with its users.
Features
Starting with the best feature this bike has to offer, and its front and rear suspension come into play. Without sacrificing the bike's compactness, the suspension system creates superior comfort and stability when biking through uneven or rocky terrains.
Moreover, it isn't only the suspension system of this bike which is capable of taking a beating, as its 17'' aluminum frame keeps each bike component intact. Supported by bigger tires – which keep road vibrations at a minimum – the frame undoubtedly increases the shelf life of this model.
Also, since this bike comes indexed with 24 speeds, it not only provides the necessary power required to undertake uphill riding but also ensures the necessary control which is a must-have for downhill movement.
Making sure you remain safe while using this bike are its front and rear disc brakes and 24-speed Shimano shifting system. While the former will keep you safe even in muddy terrains and high speeds, the latter will let you choose any speed with ease.
Pros
Has Shimano shifting system
Provides front and rear disc brakes and suspension system
Aluminum alloy frame and fat tires
Cons
Final Verdict
With its Shimano shifting system, front and rear suspension and disc brakes – not to mention the ease of assembly – the Cyrusher FR100 folding mountain bike is certainly one of the stand-out performers in this review.
Are you looking for an affordable full-size bike? Don't want to compromise on quality, either? If your answer to both these questions is in the affirmative, then you cannot go wrong with the Columba 26'' folding bike.
Features
In contrast to some other folding bikes available on the market, the Columba 26'' has a straightforward folding mechanism. Thanks to its adjustable alloy kickstand, this bike stands on its own when you're folding it up, hence making the whole process a lot easier.
However, it isn't only the ease of assembly which has made the Columba one of the best-selling bikes on Amazon. It has Kenda thick tires which makes full use of their plus alloy rims to keep vibrations at a minimum during bumpy rides.
In addition to its ridiculously low weight of 34 lbs, what makes the Columba 26'' easy to carry are its removable handlebars and the foldable pedals. No tools are required for either of the two "tasks" and you could easily fit in this bike in the back seat of your car.
It also has 18-speed shifters which make inclining and declining a lot easier. Both the front and rear of the bike are secured with steel hubs and the 26'' tires will prevent road bumps from getting on your nerves. You also get a contoured seat which makes riding long distances a tad more comfortable.
Pros
Competitive priced
Contoured seat for long-distance rides
Shimano 18-speed shifter and derailleur
Removable handle and foldable pedals
Cons
Final Verdict
Provided you don't have any qualms driving a bike which has no disc brakes – whose exclusion is a major reason why this bike is so competitive priced – and can't pay over the odds, I see no reason why you shouldn't go for the Columba 26″ Folding Bike.
The Montague Paratrooper Pro 20'' bike is incredibly rugged, tough and versatile. Whether you intend to use it on city streets or rock terrains, this bike has all the features to withstand large amounts of wear and tear.
Features
Who says you have to be careful while folding a bike lest you end up damaging it? With the Paratrooper Pro, you get Montague's patented Folding Integrated Technology which helps preserve the bike's structural integrity, even when in folded form.
It has an efficient structure which lets you fold and take apart the bike in less than 30 seconds. All you have to do to fold this bike is to pull up its quick release lever and lift up its fin. You can even remove and install the front wheel without adjusting the cam using a patented CLIX system.
Next comes its suspension lockout system which offers premium road experience to its riders. When riding, you have the choice to lock the suspension to stop the forks from moving. That way you can move faster without encountering any hindrance from the suspension.
Interestingly, this bike offers a 27-speed system which means you can go as fast as 27mph. With more gears in your arsenal, you can not only shift gears quickly but also do the same sensibly. An adjustable seat is also on offer and you get full control over the bike thanks to its front and rear disc brakes.
Pros
Suspension lockout system
Adjustable Stem System
Convenient gear shifting
Easy to assemble
Cons
Final Verdict
As is the case with almost all the Montague folding bikes, the Paratrooper pro offers exceptional quality, extreme control, and above-par riding experience. Provided you can handle its bulkiness, this bike is certainly worthy of your money.
How to Choose the Best Folding Mountain Bike
Since you're going for a mountain bike, it means you'd need a multi-gear bike as that would make climbing up and coming down steep slopes easier. Having settled this point, let's look at some other features which you might want in your two-wheeler.
Frame
Go through the above mentioned reviews of folding mountain bikes, and you'd see that they have used one of the following 4 frames.
Aluminum
Provided you're looking for a low-weight frame – which is inexpensive, provides good control and maneuverability – you might need to settle on an aluminum frame. That said, aluminum bikes are not able to handle as much abuse as, say, titanium or carbon fiber bikes.
Steel
Don't want to spend more money on the bike? Then you should get one with a steel frame. The most inexpensive of all frame materials, steel still provides ruggedness to the bike and gives it the ability to absorb shocks with ease. However, steel bikes also weigh a ton.
Carbon fiber
Folding bikes which have a carbon fiber frame tend to be super-lightweight, offer an extreme amount of flex and provide an excellent level of shock absorption. The flex offered by carbon fiber frames is unrivaled as well. Though, since it is extremely lightweight, there are question marks about carbon fiber's ruggedness.
Titanium
Provided you are able to pay some big bucks, go for a bike with a titanium frame. It is lightweight, strong offers a reasonable amount of shock absorption. What's more, titanium frames are famous in the market for their ability to last forever.
Brakes
When it comes to folding mountain bikes, you'd come across two types of brakes: rim-type and disc brakes. Let's look at both of them to decide which one will suit you more.
Disc Brakes
Without going into technicalities to explain how they work, here's what you need to know about disc brakes: they provide maximum stopping power regardless of the terrain, are equally effective in muddy and wet conditions and last ages. They also tend to be more expensive than rim brakes.
Rim Brakes
In case you were thinking that all is doom and gloom about rim brakes, you were wrong. For, bikes with rim brakes tend to weigh lighter than their counterparts having disc brakes. Also, rim brakes tend to make bikes more aerodynamic and when you compare them to disc brakes, setting up rim brakes is a cinch.
What Should You Choose? Do you want a bike which provides more safety, has more biking power and offers greater control? Then go for disc brakes. Conversely, if you want your bike to be lightweight and provide moderate braking power, then rim brakes deserve your attention.
Suspension
Though some folding road bikes also provide them, suspensions – as they ensure comfort on rough trails by absorbing shocks – are a must-have for folding mountain bikes, which provide either a full (front and rear) suspension or front (hardtail) suspension.
Full Suspension
It goes without saying that full suspension bikes cost extra and are heavier of the two suspensions. Also, in contrast to hardtail suspensions, full suspensions require periodic maintenance. Yet, if you intend to ride on rough trails, carry out high-speed descents and/or have back/joint pains, you should go for bikes offering full suspension.
Hardtail Suspension
Folding mountain bikes with a hardtail suspension tend to have a lower upfront cost and are also lightweight. These suspensions, however, are only suitable for pavements, fire roads, and smoother single tracks. Also, they require less outlay of money in periodic maintenance costs.
Add-ons
Think you can pay extra for some bells and whistles? Then you might want these add-ons to make your ride a little more enjoyable.
Adjustable handlebar and seat: Having both these parts in your bike mean that it would conform to your size.
Front and back lights: if you intend to ride your bike at home, make sure it comes with reflecting lights to make automobile drivers aware of your presence.
Chain guard: By protecting your bike's chain from dirt, debris, and other environmental pollutants, a chain guard might end up increasing its shelf life.
Conclusion
While all the above mentioned foldable mountain bikes come with different specs, one thread which binds them is their extreme commitment to providing you quality. That means whether you want a foldable bike to provide a little extra comfort on your daily commutes – or want to ride out harsh hiking trails – all these bikes are more than up to the task.
FAQ
Are folding mountain bikes worth it?
Folding mountain bikes can be worth it if you need portability and storage convenience. However, they may have trade-offs in performance compared to traditional mountain bikes, especially in rugged terrains.
Is mountain bike better than a foldable bike?
It depends on your needs. Mountain bikes excel in off-road terrains and performance, while foldable bikes offer portability and storage advantages for urban commuting and short rides.
Are there foldable mountain bikes?
Yes, there are foldable mountain bikes designed for off-road riding. They combine the convenience of folding with the versatility of a mountain bike, suitable for various terrains.
Do folding bikes go slower?
Folding bikes may have slightly different riding characteristics, but their speed depends more on the rider's effort and the bike's quality rather than the folding mechanism.
Are folding bikes good uphill?
Folding bikes can handle uphill rides reasonably well, especially those with appropriate gear ratios. However, their performance might not match specialized mountain bikes in challenging mountainous terrains.
Related Topics: